MIT School of Architecture: Thresholds 50, Before | After
Publication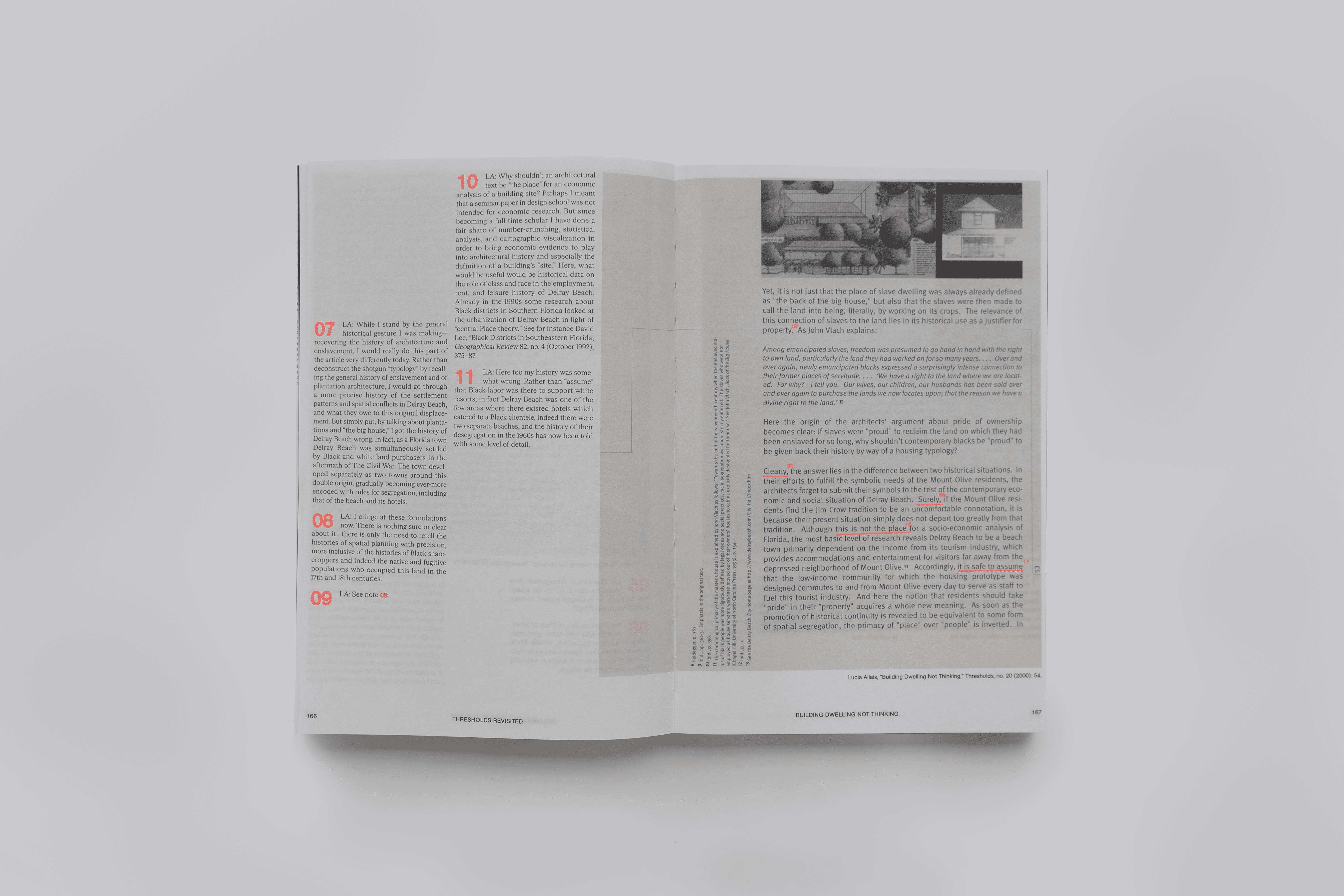 Publication design for the 50th issue of MIT School of Architecture's peer-reviewed journal
Thresholds
. The theme of the issue, Before | After, deals with the poignancies of the passage of time: looking backward and forward, at pasts, past futures, and present possibilities. As an allusion to the murky thresholds of "before" and "after", the book features a neon red PMS spot color that ebbs and flows from the cover art through every single red in the book in fluctuating amounts—whether it's through archival imagery, present-day photographs, differing gradient floods, handwritten elements, or even the threads in the Swiss-bound spine—serving as a metaphor for in-between moments that hint at the future and remind us that the past is sticky, persistent, and, in many ways, always with us.
Thresholds
50 is published by MIT Press, and jointly edited by Jola Idowu, Antonio Pacheco, Ardalan Sadeghikivi, and Meriam Soltan. Lithography by Marjeta Morinc.
Tracksmith: Meter Magazine
Magazine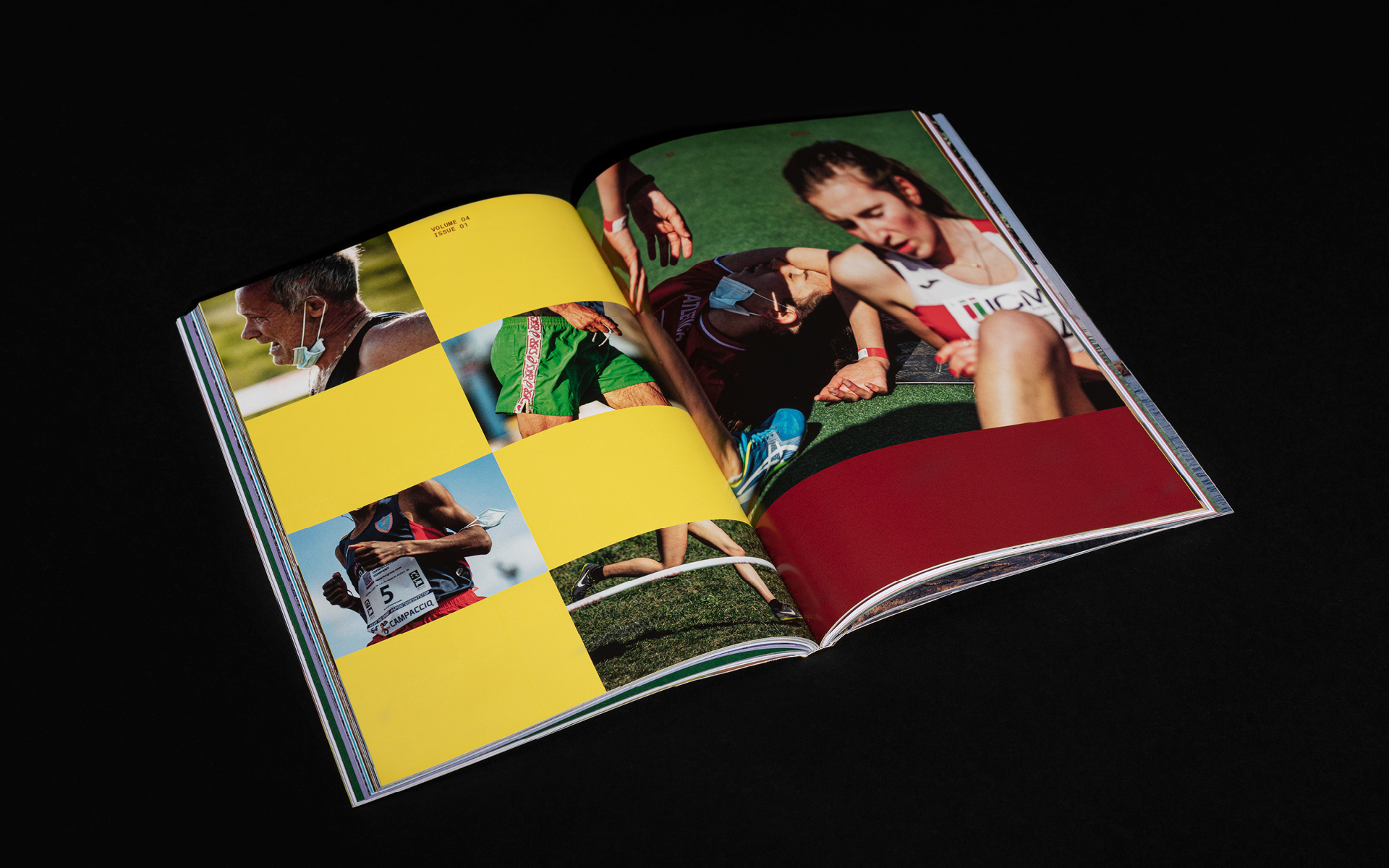 Magazine redesign and art direction for
Tracksmith
's Meter Magazine, a longform publication about the hidden side of running culture. Overhauling its original broadsheet format, the redesign sought to lengthen shelf life of the magazine, featuring a printed cloth tape spine with the table-of-contents running off the edges to allow for readers to quickly browse past issues at a glance.
Completed with
Doubleday and Cartwright
: creative direction by Aaron Amaro, and photo editing by Shane Lyons. Special thanks to Rafa Oliveira and Andy Waterman of the Tracksmith team. Photography of magazines by Shane Lyons.
The Walker: Skyline Mini Golf (MORE SOON)
Identity
Identity design and illustrations for
The Walker's annual Skyline Mini Golf event of 2022
which features a ten-hole, artist-designed course on the rooftop of The Walker.
Designed in collaboration with Studio Elana Schlenker. Illustrations by me, and typeface by Benoit Bodhuin.
Vans x Record Store Day: Portraits of Her
Zine
Zine designed and photo-illustrated as a print accompaniment to
Portraits of Her
, a vinyl album created by Vans and Record Store Day in celebration of groundbreaking women in the music industry. Risoprinted in 5 colors: Scarlet, Aqua, Yellow, Black and Metallic Gold by
Risolve
and featuring matching metallic gold foil stamp on the cover.
Creative direction by Bruno Luglio and the Vans team.
The Warhol: Fantasy America
Book
Exhibition catalogue for Fantasy America by The Warhol that accompanied the eponymous limited exhibition which featured work by Nona Faustine, Kambui Olujimi, Pacifico Silano, Naama Tsabar and Chloe Wise. The exhibition invited all 5 artists to revisit Andy Warhol's America (1985) and offer their own picture of contemporary American life. Designed with Studio Elana Schlenker, with title lettering by Wei Huang. Exhibition curated by Jose Diaz, and book published by The Warhol in 2021.