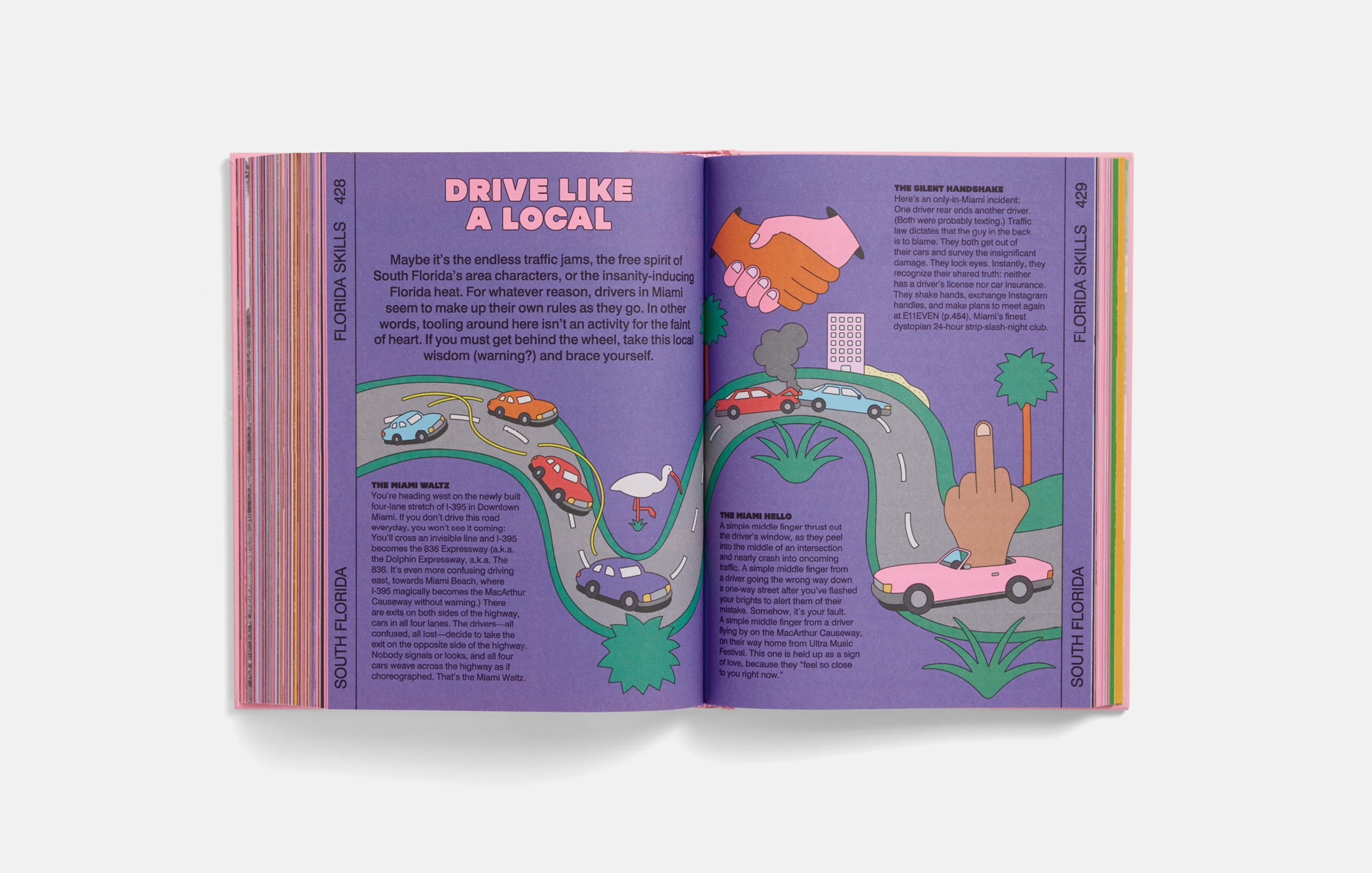 Book design and art direction for A24's
Florida!
— a 574-page hyper-local travel guide book to the most far-out state in America. The book features a puffy cover with blocky, eccentric display typography reminiscent of classic Florida postcards (here, a stretched version of Zaft by
Jacob J. Wise
). The color palette revolves around a "Florida Pink" swatch, a shade of pink that was pulled from the wildlife and architecture of the state. Each chapter of the book corresponds to a different geographical part of the state and begins with a fold-out illustrated map of the locations and landmarks in that chapter. Folios on the side of each page provide strong wayfinding and a sense of location throughout the book.
Florida!
is available to purchase from the A24 Shop
here
.
Edited by Gabrielle Calise
Published by A24

Designed and art directed with Elana Schlenker
Illustrated by Gabriel Alcaca
Photo editing by Kyra Goldstein
Special thanks to Shayan Saalabi
Head of A24 Publishing: Perrin Drumm

Euphoria Fashion
A24
Book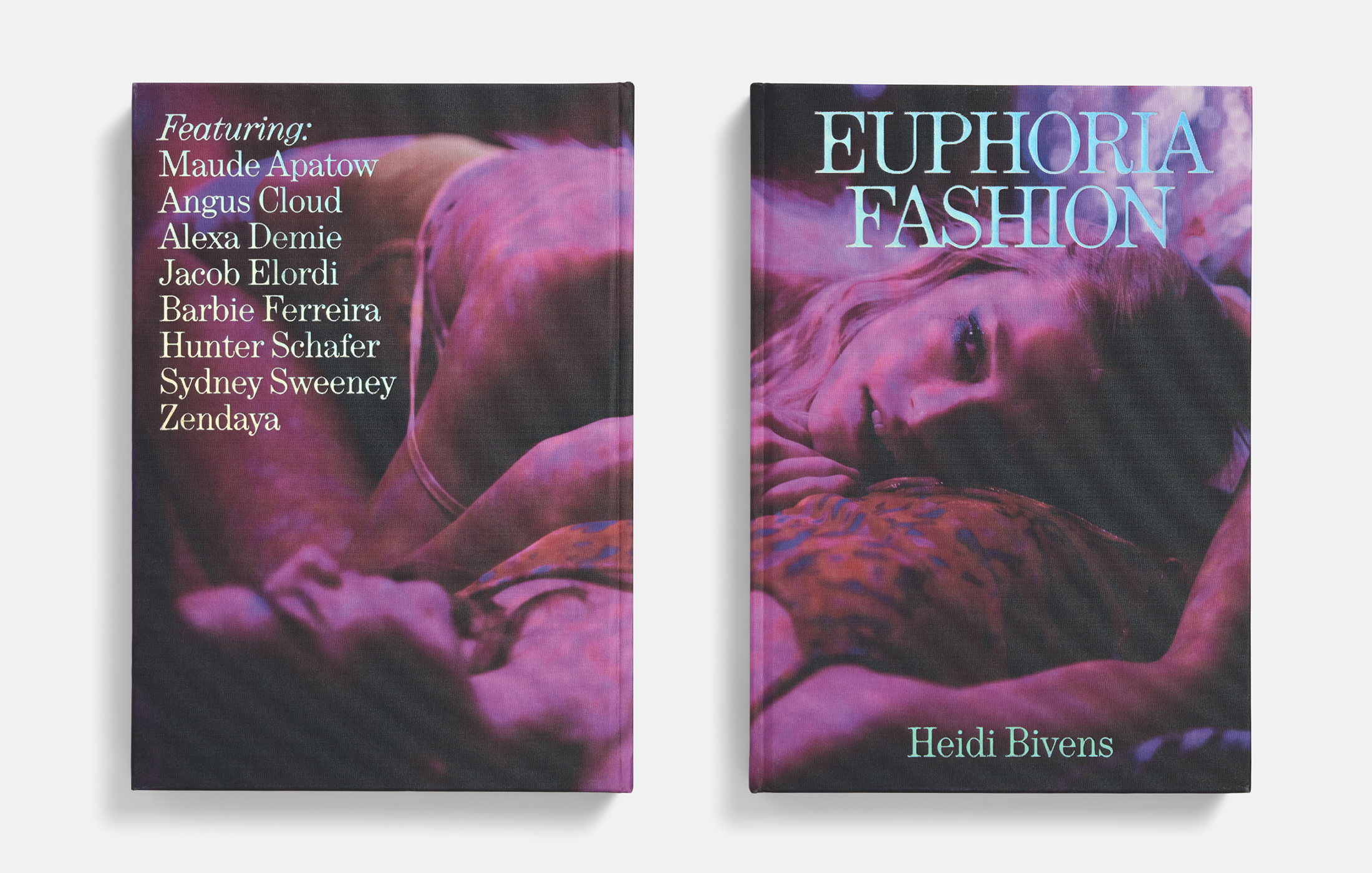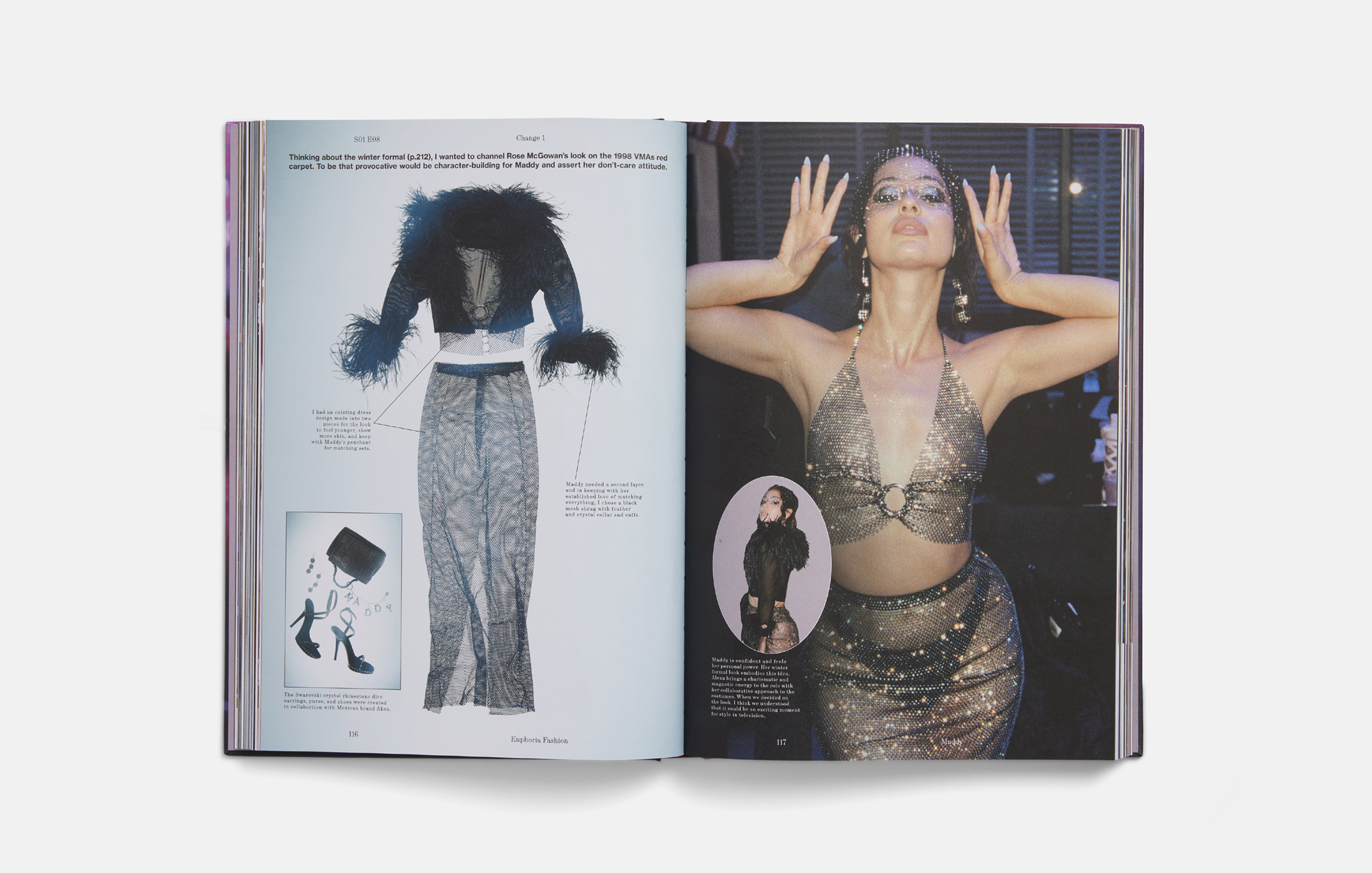 Book design for A24's
Euphoria Fashion
: a deep dive into the costume design and fashion world of hit TV series
Euphoria
, as written by costume designer Heidi Bivens. The book breaks down the evolution of costumes for the various characters and their character arcs, alternating between deep character costume studies and key episodic write-ups. It also features conversations with cast and crew, original essays by William Van Meter, Mitchell Kuga, José Criales-Unzueta, and Biz Sherbert on high-camp, normcore bondage and
Euphoria
memes found on Twitter. The book is a 4C-printed clothbound hardcover topped off with rainbow holographic foiled typography, and features a violet-silver Pantone ink throughout.
Euphoria Fashion
is now available to purchase from the A24 Shop
here
.
Written by Heidi Bivens
Published by A24

Designed together with Elana Schlenker
Typography: EK Roumald by Erkin Karamemet
Lightbox photography by Nicholas Alan Cope
Edited by LinYee Yuan
Head of A24 Publishing: Perrin Drumm
Publishing Operations Manager: Shayan Saalabi
Aeropolis
Columbia Books on Architecture and the City
Book
Book design for
Aeropolis
, written by Nerea Calvillo and published by Columbia Books on Architecture and the City.
Aeropolis
follows air across its many forms—through smog and dust, bodies and breath, pollen, and weeds––laying out an unruly and relational way of designing-thinking-making across human and non-human matter, geopolitical ecologies, and aerial regimes. The book insists that we acknowledge the diversity of air and its relations, both physically and affectively; that we become sensible to it by living, breathing, seeing, holding, touching, queering airs.
The book features a clear glossy foil stamp and a blind-embossed air particulate pattern over the cover. Throughout the interior pages, the oversized page numbers move up and down the page, fluctuating in response to Nerea's narrative shifts in the footnotes.
Aeropolis is available to purchase from Columbia Books on Architecture and the City
here
.
Written by Nerea Calvillo
Published by Columbia Books on Architecture and the City

Edited by Isabelle Kirkham-Lewitt and Joanna Joseph
Assistant Editor: Meriam Soltan
Lithography: Marjeta Morinc
Cover Pattern: John Provencher
Thresholds 50: Before | After
MIT School of Architecture
Publication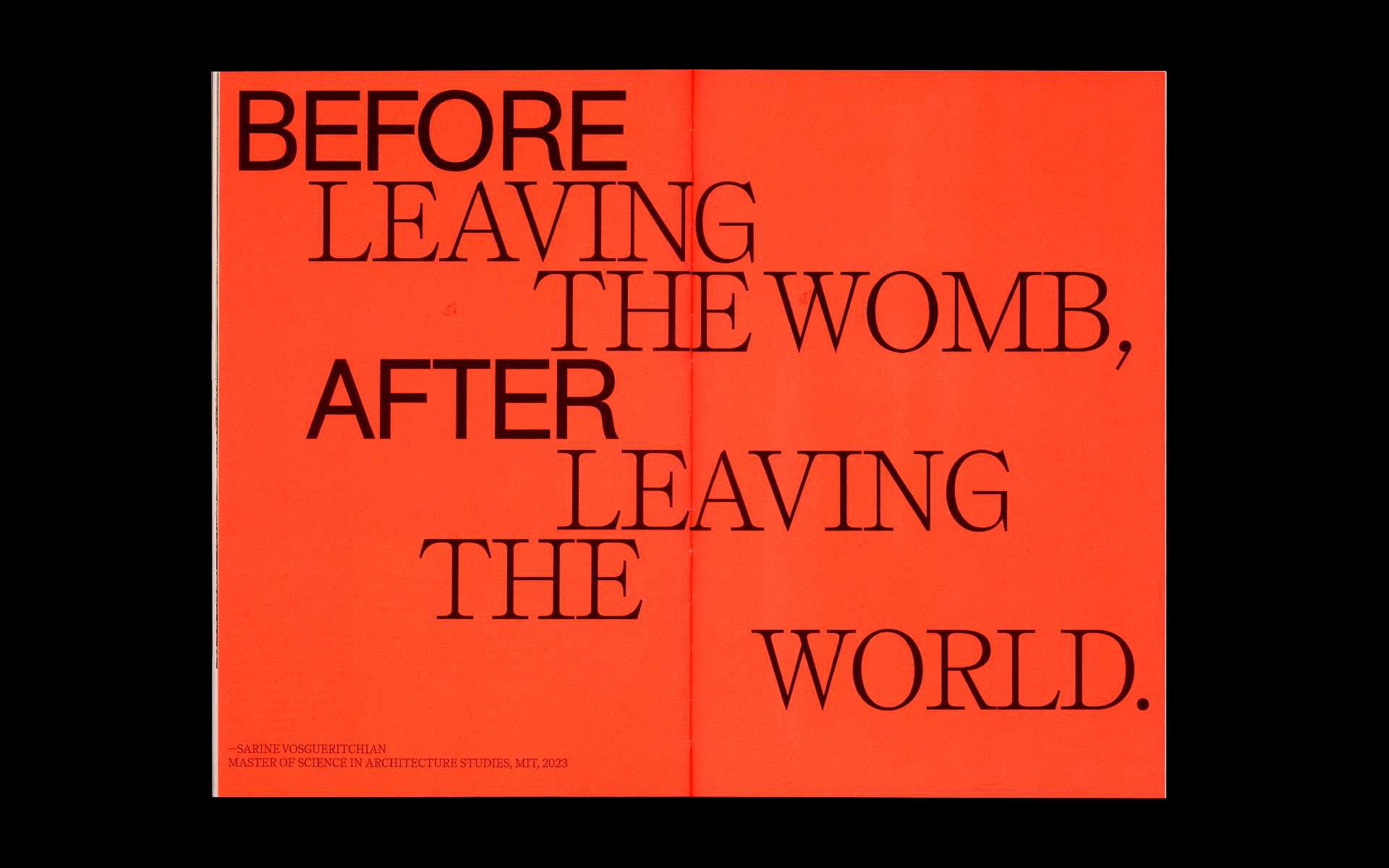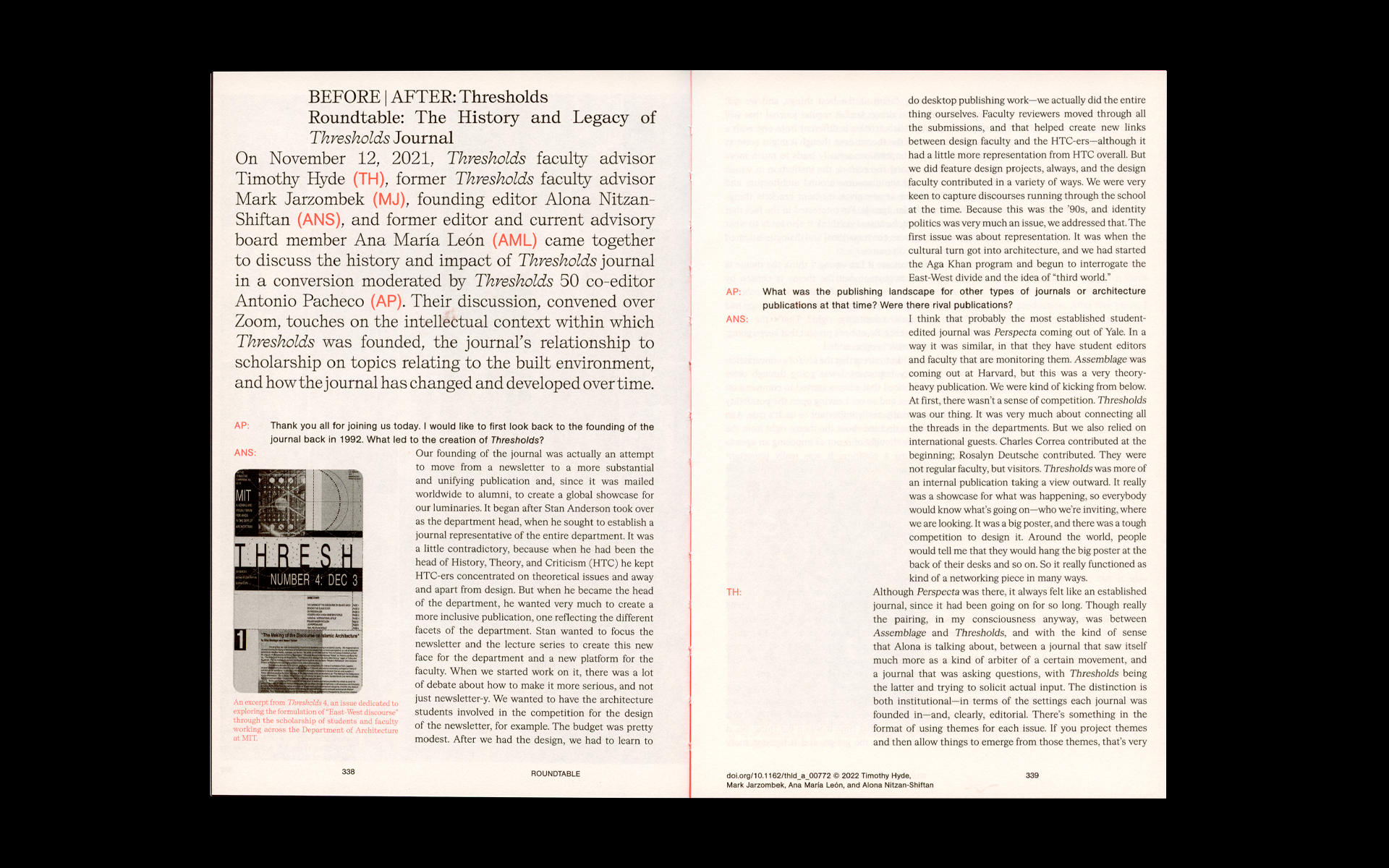 Publication design for the 50th issue of MIT School of Architecture's peer-reviewed journal,
Thresholds
. The theme of the issue, "Before | After", deals with the poignancies of the passage of time, looking backward and forward, at pasts, past futures, and present possibilities. As an allusion to the murky thresholds of "before" and "after", the book features a neon red PMS spot color that ebbs and flows from the cover art through every single red in the book in fluctuating amounts—whether it's through archival imagery, present-day photographs, differing gradient floods, handwritten elements, and even the threads in the Swiss-bound spine—serving as a metaphor for in-between moments that hint at the future and remind us that the past is sticky, persistent, and, in many ways, always with us.
Thresholds
50: Before | After can be purchased directly from MIT Press
here
.
Edited by Jola Idowu, Antonio Pacheco, Ardalan Sadeghikivi, and Meriam Soltan
Published by MIT Press

Lithography by Marjeta Morinc
Skyline Mini Golf
The Walker
Identity
Identity design and accompanying illustrations for
The Walker's Skyline Mini Golf 2022
which features a ten-hole, artist-designed course on the rooftop of The Walker. The identity revolves around a golf course of holes and balls suspended in a dreamy summer air. The main display type used across the identity features oversized oval tittles that serves as a further visual nod to the world of golf holes and balls.
The identity was carried out across out-of-home posters in Minneapolis, print collateral for The Walker such free passes and tickets, museum signage, T-shirts, as well as digital ads.
Designed together with Elana Schlenker
Typeface: Elastik C by Benoit Bodhuin
Produced by Jake Yuzna (The Walker)